M

t. Calvary Missionary Baptist Church thrives on a tradition of serving others through praise and worship, teaching and training, and giving back. Once you come to Mt. Calvary as a guest, you leave as a friend. God continues to bless us as we grow and look to the future. We believe that with God, all things are possible. Whenever the doors of our church are open, you are welcome to join us.
Sunday School: 8:30 AM
Worship Service: 10:00 AM
Lord's Supper (1st Sundays): 10:00 AM
Hour of Prayer (Wednesday): 6:30 PM
Mid-Week Bible Study (Wednesday): 7:30 PM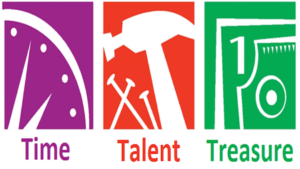 It should come as no surprise to hear that there are many Christians who use their time, talent, and treasure to satisfy their own personal desires. However, our personal choices are often opposite to the will of God. If you desire to get a better understanding of how God expects us to manage the time, talent, and treasure He has given us, please join us during the month of February. Pastor Simmons will be preaching a 4-part series entitled "Time, Talent, & Treasure." This stewardship series is designed to share God's expectations for all Christians.

"Faith is taking the first step even when you don't see the whole staircase. –

Martin Luther King, Jr.

Follow our social media outreach and stay connected with the latest updates, newsletters and ministry events.
The information on this site is the property of Mt. Calvary Missionary Baptist Church. No broadcasting or duplication of any sermons allowed without permission from Mt. Calvary Missionary Baptist Church.
Hilton Head Island, South Carolina 29925
Tel: 843-681-3678 Fax: 843-681-5343
Email: mtcalvarybaptist@hargray.com