About Our Pastor: Rev. Dr. Deonia Simmons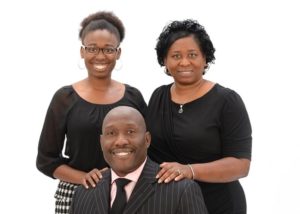 Rev. Dr. Deonia Simmons, First Lady Wanda Simmons and their daughter, Shakkirah Simmons.
Reverend Dr. Deonia Simmons is a 1993 graduate of Voorhees College. He earned his Masters and Doctoral Degrees from Nova Southeastern University, which is located in Fort Lauderdale, Florida. He is currently pursuing a Masters of Divinity degree from Luther Rice University and Seminary.
Reverend Simmons was licensed to preach the Gospel in February, 2007 at Greater Mount Pleasant Missionary Baptist Church in Callahan, Florida. After serving in that ministry, Reverend Simmons began serving in ministry at the First Baptist Church of Mandarin in Jacksonville, Florida, where he was very active in the church's Youth Ministry. After relocating back to South Carolina in 2009, Reverend Simmons was ordained at Summer Grove Missionary Baptist Church in April, 2010. In 2011, Reverend Simmons served as Pastor of St Mark Baptist Church in Allendale, S.C. On November 19, 2017, he was installed as the seventh pastor of the Mt. Calvary Missionary Baptist Church, Hilton Head Island, SC. As a dedicated educator, Reverend Simmons has also served as a teacher, assistant principal, principal, and school district superintendent. It should be noted that Rev. Simmons currently serves as Principal of Denmark-Olar High School in Denmark, S.C.
Reverend Simmons and his wife, Wanda, have one daughter, Shakkirah. In his free time, Rev. Simmons enjoys going to church, spending time with his family, dreaming bigger dreams, and trusting God to make those dreams come to pass!